Project Implementation (Quality Assurance / Quality Control)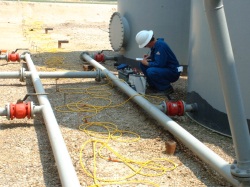 A successful client – contractor experience is built on the request for proposal (asking the right questions), choosing the right contractor (picking the proposal providing the appropriate value) and project oversight. WGI provides expert advice in:
Planning the geophysical component of projects including recommending technologies, instrumentation requirements, data collection specifications and scheduling.
Reviewing proposals, accessing cost against benefits, suitability of schedules, manpower allotments and applicability of experience.
Establishing quality control processes
Oversight and data review. Contractor - client liaison including confirmation of performance, alternative strategies for nonconformance or issues beyond contractor's control.
Report review and comment.

To avoid conflict of interest WGI does not compete for standard geophysical surveys. This frees us to bridge the any gaps between the project owner and contractor when challenges arise and insure value for the owner and the ultimate objectives are best met.
Project Inquiries
Peeter Pehme Ph.D., P.Geo.
1.519.500.9568